We hold monthly RSA Webinars with guest speakers exploring important topical issues from a rationalist perspective.
This year, we're holding webinars on the fourth Wednesday of each month via Zoom. Registration is essential. Each webinar begins at 7.30pm and goes for one hour. Audience members have a chance to raise questions as part of a Q&A section following the guest speaker's presentation.
To be the first to be notified of upcoming webinars, subscribe to the RSA Daily or become a member of the RSA.
Coming up next: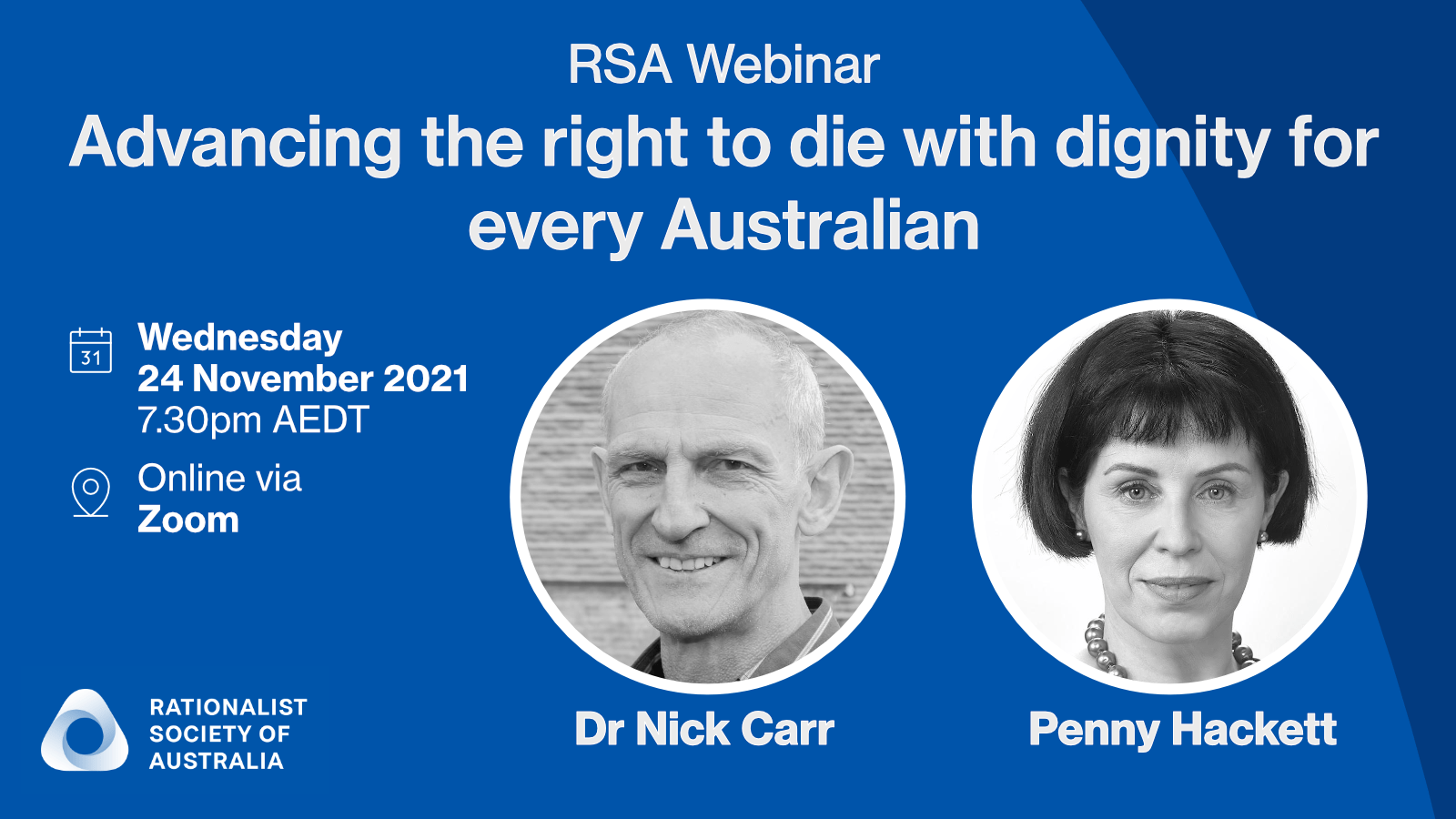 When: 7.30pm AEDT, Wednesday 24 November 2021
Where: Watch via Zoom
Duration: 1 hour


Voluntary assisted dying (VAD) laws now operate in many parts of Australia, but much work still remains to make the end-of-life option accessible to terminally ill people in every state and territory.

Being held as a tribute to the late Dr Rodney Syme, this webinar will reflect on the significant reforms that have been achieved in Australia because of the activism of passionate people like Dr Syme.

Guest speakers Dr Nick Carr and Penny Hackett
Nick is a Victorian GP and honorary clinical senior lecturer in the Department of General Practice at the University of Melbourne. He is actively involved with providing VAD care. He is a board member of Dying with Dignity Victoria.

Penny is president of Dying With Dignity New South Wales, which is currently leading the campaign to legalise VAD in the state. A finance lawyer by background, she has devoted much of the past four years to advocating for VAD in New South Wales and other states.


Register here: Via Zoom
Past Webinars
When
Topic
Wed 27 Oct 2021
Unpacking the 'religious freedom' agenda
The campaign for laws to protect 'religious freedom' has, for some years now, generated much political controversy. In the months ahead, it could deliver religious discrimination legislation in the federal and New South Wales parliaments.

But who are the people, groups and ideas driving this religious-based activism? What do they want and why?

Two of Australia's leading researchers working at the intersection of religion and politics will join us to answer these questions and share some of their insights to help us better understand the 'religious freedom' agenda.

Rev. Dr Elenie Poulos is an ordained minister in the Uniting Church. She recently published her PhD dissertation on The politics of belief: the rise of religious freedom in Australia.

Professor Marion Maddox is an academic at Macquarie University. She is author of titles including God Under Howard: The Rise of The Religious Right in Australian Politics and Taking God to School: The End of Australia's Egalitarian Education.
Wed 22 Sept
The limits to freedom of speech during a time of crisis
Since the outbreak of the COVID-19 pandemic, the need to implement measures to protect public health has compromised many of the civil liberties that we would normally take for granted.

The recent banning of a major media outlet on a social media platform has drawn into sharp focus questions over the right to freedom of speech during a public health crisis.

In this webinar, Margaret Simons, an award-winning journalist, author, political biographer and journalism academic, will present on The limits to freedom of speech during a time of crisis.

Simons will speak on the extent that civil liberties can or must be compromised during a crisis, while balancing the demands of the collective with the right to individual autonomy.

She will also share her views about the rights and responsibilities of the press and social media in the transformed media landscape now dominated by the tech giants.

Watch a recording here.
Wed 25 August
Climate change: How societal actors are stepping up to fight for a sustainable future
New forecasts from the Intergovernmental Panel on Climate Change (IPCC) have put the world on higher alert about the possible dangers ahead. While this has been a red flag that needed raising, not all businesses and governments are starting from scratch.
In this webinar, Brendan Liveris, an industry expert on sustainability management, will present the positive work that is being done to tackle the problem, even as the federal government remains, according to its critics, asleep at the wheel.
He will give insights into: how the investors are driving corporate action; how states and territories, along with businesses, are forging ahead; what individuals can do to help the planet avoid the worst-case scenarios.
Brendan is also Treasurer of the Rationalist Society of Australia.
Watch a recording here.
Wed 30 June 2021
Religiosity in Australia: The religious devouts and their political clout
Religious conservatives have a prominent voice in the nation's political debates, including the upcoming 'Religious Freedoms' bill. But to what extent do they represent the "real" religious Australia, let alone all Australians? Up to now, we've mostly had to rely on the claims of clerics. But with the release of a major new analysis of the nation's religiosity, a different picture has emerged. In this webinar, RSA Fellow Neil Francis, author of the 'Religiosity in Australia' report, discussed the drivers behind the political activism of Australia's most devout religionists. His presentation also explored the extent to which conservative clerics represent the actual views of their flocks on social policy matters, plus the supposed impact of the most committed religious voters on elections. 'Religiosity in Australia', published earlier this month, charts the long-term decline of religiosity and trends in religious affiliation. The report is available for download on the Rationalist Society of Australia's website here.
Watch a recording of this webinar here
Wed 19 May 2021
Lessons from Tasmania's journey to legalising voluntary assisted dying
In March 2021, Independent MLC Mike Gaffney celebrated the passing of his End of Life Choices (Voluntary Assisted Dying) Bill 2020 in the Tasmanian Parliament. In the long journey to legalise the end-of-life option for terminally ill Tasmanians, Mike advocated for an evidence-based approach to the issue while religious lobbyists deployed fear and misinformation campaigns. In this webinar, he will reflect on some of the lessons in his campaign for voluntary assisted dying and offer insights that may help people fighting for the cause in other states and territories. Mike is a strong supporter of secularism.
Watch the full webinar on YouTube.
Wed 28 Apr 2021
Challenging religious discrimination in government chaplaincy programs
Governments fund and operate a number of chaplaincy programs in Australia, including school chaplains, hospital chaplains and military chaplains. In this webinar, constitutional law expert Associate Professor Luke Beck will present on the unnecessary religious discrimination built into government chaplaincy programs. As Vice-President of the Rationalist Society of Australia, Dr Beck will also discuss what the RSA is doing to fight these practices.
Watch the full webinar on YouTube.
Wed 24 Mar 2021
Drug Law Reform
Dr Tom Lillicrap will articulate the problems and propose a law reform fix. Dr Lillicrap is a post-doctoral fellow at the Hunter Medical Research Institute where he researches early stroke treatment and stroke recovery.
Wed 24 Feb 2021
Census 21 Campaign
The Census 21 campaign aims to increase the number of people who select 'no religion' in the census this year in August. At each census over the years, the percentage of people who have selected 'no religion' has increased, from 13% in 1986, to 30% in 2016. How do we increase this number even more?
Wed 27 Jan 2021
Modern Worldviews" - the RSA & Humanists Vic. curriculum
In collaboration with Humanist Victoria, the RSA is developing a curriculum for secondary students to learn about "Secular Humanism".
Wednesday 9 December 2020
Male Circumcision
Jeff Lerner will speak on the subject with reference to his article "A Story of Shame" which appeared in The Australian Rationalist of March 2020.
Wednesday 11 November 2020
A case against veganism.
Wed 9 September 2020
Bill of Rights for Australia
Wed 12 August 2020
Whistle Blowers Australia
Wed 8 July 2020
Universal Basic Income for Australia
Wed 13 May 2020
Capital Punishment
Wed 8 April 2020
Meetup Cancelled
This Meetup and and all future Meetups will be cancelled until further notice. Will resume again once COVID-19 restictions are lifted.
Wed 11 March
Political Correctness
Wed 11 Dec
Religious Discrimination Bill
Wed 13 Nov
Rationalist 10 Point Plan for a Secular Australia
Wed 11 Sept
Should there be a Voice to Parliament for indigenous Australians?
Wed 14 August
Should drugs like cannabis be legalised?
Wed 10 July
Should religious schools be able to hire in their own image?
Wed 12 June
"Islam & The Future of Tolerance
Film screening at The Nova in Carlton
Wed 8 May
The Chaplaincy Challenge
Wed 10 April
Stay in or opt out? The pros and cons of My Health Record
Wed 13 March
"Why is there something rather than nothing?"
Wed 13 Feb
Alternatives to Prayers before Council, and State and Federal Parliaments
Wed 16 Jan 2019

The Role of Reason in a Fractious Society
Meetings held in 2018
Wed 12 December 2018
Homelessness
Wednesday 14 November
Chaplains in Schools, Hospitals, Emergency Services and the Armed Services
13 August 2018
The Communist Manifesto
9 July 2018
China-Australia relations
12 February
Religious Freedoms for the Non-religious
8 January
An Aussie President
Meetings held in 2017
11 December
Sport
13 November
False Witness
9 October
Human Responsibilities
11 September
Democracy
14 August
Genital Autonomy
10 July
Welcome to the World
12 June
Is the Australian tax system fair?
8 May
The new Worldviews curriculum
10 April
Government funding of the arts
13 March
Nudity
13 February
Division of Time
9 January
Drug Law Reform