We hold monthly RSA Webinars with guest speakers exploring important topical issues from a rationalist perspective.
This year, we're holding webinars on the fourth Wednesday of each month via Zoom. Registration is essential. Each webinar begins at 7.30pm and goes for one hour. Audience members have a chance to raise questions as part of a Q&A section following the guest speaker's presentation.
To be the first to be notified of upcoming webinars, subscribe to the RSA Daily or become a member of the RSA.
Coming up next: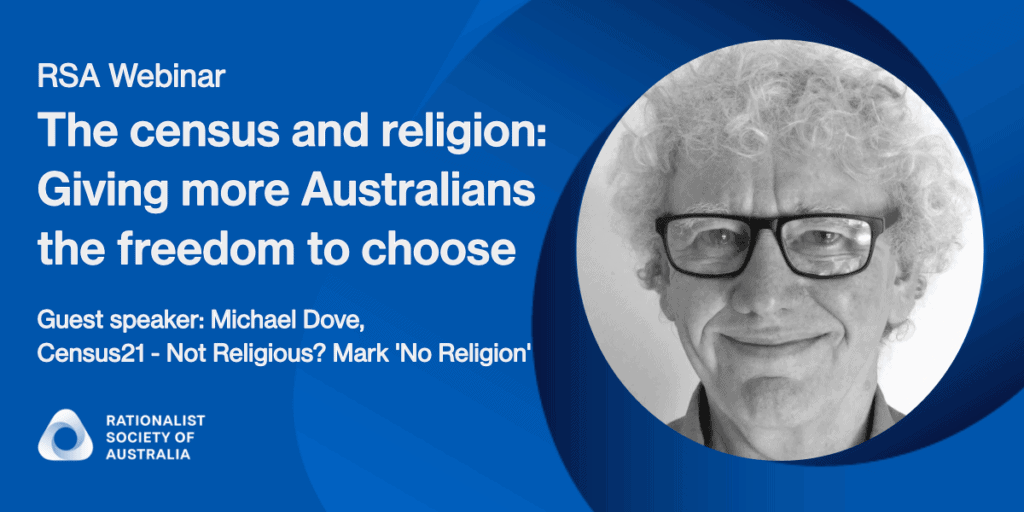 When: 7.30pm AEST, Wednesday 28 July 2021
Where: Watch via Zoom
Duration: 1 hour

Every five years, when the nation completes the census, many Australians do not have the freedom to accurately record their religion or non-religious identity.

In some households, especially conservative religious ones, young people and others who lack power may be fearful of identifying as not religious or of choosing a religion different to that of their family heritage.

In this RSA Webinar, Michael Dove, leader of the Census21: Not Religious? Mark 'No Religion campaign and member of Humanists Victoria, will present on why this is a problem for the 'religion question' on the census. He will also explain how a new initiative will make it easier for such people to exercise their freedom to choose their religion or to choose 'no religion' at the August census.

Michael will also provide an overview of the 'Mark No Religion' campaign and an update on how it's going.

Watch a recording here.

Past Webinars
When
Topic
Wed 30 June 2021
Religiosity in Australia: The religious devouts and their political clout
Religious conservatives have a prominent voice in the nation's political debates, including the upcoming 'Religious Freedoms' bill. But to what extent do they represent the "real" religious Australia, let alone all Australians? Up to now, we've mostly had to rely on the claims of clerics. But with the release of a major new analysis of the nation's religiosity, a different picture has emerged. In this webinar, RSA Fellow Neil Francis, author of the 'Religiosity in Australia' report, discussed the drivers behind the political activism of Australia's most devout religionists. His presentation also explored the extent to which conservative clerics represent the actual views of their flocks on social policy matters, plus the supposed impact of the most committed religious voters on elections. 'Religiosity in Australia', published earlier this month, charts the long-term decline of religiosity and trends in religious affiliation. The report is available for download on the Rationalist Society of Australia's website here.
Watch a recording of this webinar here
Wed 19 May 2021
Lessons from Tasmania's journey to legalising voluntary assisted dying
In March 2021, Independent MLC Mike Gaffney celebrated the passing of his End of Life Choices (Voluntary Assisted Dying) Bill 2020 in the Tasmanian Parliament. In the long journey to legalise the end-of-life option for terminally ill Tasmanians, Mike advocated for an evidence-based approach to the issue while religious lobbyists deployed fear and misinformation campaigns. In this webinar, he will reflect on some of the lessons in his campaign for voluntary assisted dying and offer insights that may help people fighting for the cause in other states and territories. Mike is a strong supporter of secularism.
Watch the full webinar on YouTube.
Wed 28 Apr 2021
Challenging religious discrimination in government chaplaincy programs
Governments fund and operate a number of chaplaincy programs in Australia, including school chaplains, hospital chaplains and military chaplains. In this webinar, constitutional law expert Associate Professor Luke Beck will present on the unnecessary religious discrimination built into government chaplaincy programs. As Vice-President of the Rationalist Society of Australia, Dr Beck will also discuss what the RSA is doing to fight these practices.
Watch the full webinar on YouTube.
Wed 24 Mar 2021
Drug Law Reform
Dr Tom Lillicrap will articulate the problems and propose a law reform fix. Dr Lillicrap is a post-doctoral fellow at the Hunter Medical Research Institute where he researches early stroke treatment and stroke recovery.
Wed 24 Feb 2021
Census 21 Campaign
The Census 21 campaign aims to increase the number of people who select 'no religion' in the census this year in August. At each census over the years, the percentage of people who have selected 'no religion' has increased, from 13% in 1986, to 30% in 2016. How do we increase this number even more?
Wed 27 Jan 2021
Modern Worldviews" - the RSA & Humanists Vic. curriculum
In collaboration with Humanist Victoria, the RSA is developing a curriculum for secondary students to learn about "Secular Humanism".
Wednesday 9 December 2020
Male Circumcision
Jeff Lerner will speak on the subject with reference to his article "A Story of Shame" which appeared in The Australian Rationalist of March 2020.
Wednesday 11 November 2020
A case against veganism.
Wed 9 September 2020
Bill of Rights for Australia
Wed 12 August 2020
Whistle Blowers Australia
Wed 8 July 2020
Universal Basic Income for Australia
Wed 13 May 2020
Capital Punishment
Wed 8 April 2020
Meetup Cancelled
This Meetup and and all future Meetups will be cancelled until further notice. Will resume again once COVID-19 restictions are lifted.
Wed 11 March
Political Correctness
Wed 11 Dec
Religious Discrimination Bill
Wed 13 Nov
Rationalist 10 Point Plan for a Secular Australia
Wed 11 Sept
Should there be a Voice to Parliament for indigenous Australians?
Wed 14 August
Should drugs like cannabis be legalised?
Wed 10 July
Should religious schools be able to hire in their own image?
Wed 12 June
"Islam & The Future of Tolerance
Film screening at The Nova in Carlton
Wed 8 May
The Chaplaincy Challenge
Wed 10 April
Stay in or opt out? The pros and cons of My Health Record
Wed 13 March
"Why is there something rather than nothing?"
Wed 13 Feb
Alternatives to Prayers before Council, and State and Federal Parliaments
Wed 16 Jan 2019

The Role of Reason in a Fractious Society
Meetings held in 2018
Wed 12 December 2018
Homelessness
Wednesday 14 November
Chaplains in Schools, Hospitals, Emergency Services and the Armed Services
13 August 2018
The Communist Manifesto
9 July 2018
China-Australia relations
12 February
Religious Freedoms for the Non-religious
8 January
An Aussie President
Meetings held in 2017
11 December
Sport
13 November
False Witness
9 October
Human Responsibilities
11 September
Democracy
14 August
Genital Autonomy
10 July
Welcome to the World
12 June
Is the Australian tax system fair?
8 May
The new Worldviews curriculum
10 April
Government funding of the arts
13 March
Nudity
13 February
Division of Time
9 January
Drug Law Reform