Just how religious are Australians?
The Australian government has been collecting data about Australians' religious affiliations since 1911. At that time, nearly everyone (95%) said they were Christian.
By halfway through the last century (1966), Christianity was still dominant at 88% but the number was declining. By 1991, only three-quarters (74%) said they were Christian and by 2016, this figure had dropped to about half (52%).
On the other hand, the numbers saying they are not religious have been steadily increasing over the last 100 years. From negligible numbers in 1911, those claiming No Religion increased to 13% in 1991 and 30% in 2016. The most recent census (2016) showed that, for the first time,  more people ticked No Religion than any religious category. [While this is an encouraging trend, in New Zealand the number ticking No Religion in the census is 48%!]
---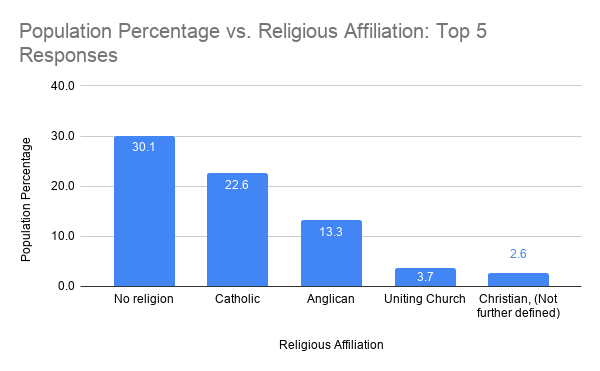 ---
The ABC's Australia Talks survey collected responses from over 50 thousand Australians. Most people (70%) say religion is not important to them in their lives:
---
---
And while overall about half of the population say they are Christian, according to research commissioned by a group of Christian organisations' a significant proportion of these (~14%) are "spiritual but not religious":
---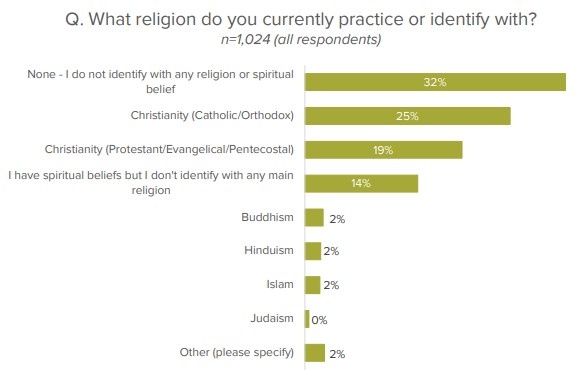 ---
Further, only a minority (21%) of those who say they are religious are active in the practice of religion:

---
Who are the most religious in Australia?
According to the Australian census, women (55%) tend to be more religious than men (50%), and older people (70%) more religious than the young (39%). Queensland and NSW are the most religious states, with Tasmania having the most claiming No Religion.
---
---
How religious is the world?
According to the Pew Centre, Christians make up the largest proportion of the religiously affiliated (31%), with Muslims making up about 25% and the religiously unaffiliated about 16%:

Extrapolating forwards 30 years, these proportions don't change much, though Islam is the fastest-growing religion:

---
What are we doing about it?
For years, the RSA and others have lobbied to have the question about religion on the census changed and we were partially successful in 2016. For the 2016 census, the No Religion category was moved from its 'after-thought' position at the bottom of the list of religions to the top.
---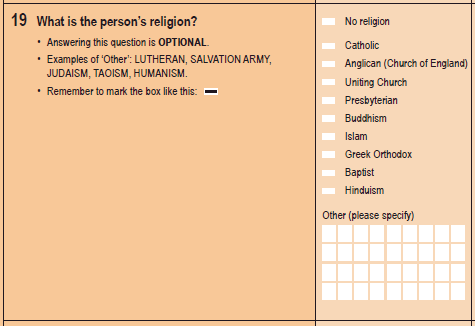 ---
While this is an improvement, the question itself is biased. Asking "What is the person's religion?" assumes the respondent has a religion.  Further, from surveys we know that many who tick one of the boxes indicating a religion are only 'culturally' religious, identifying with the religion of their parents or family. Census data is used to inform government decisions about allocation of resources, so it is important the data reflect actual, rather than simply superficial, membership of religious groups.
We therefore continue to lobby to have the religion question change to the following:
19 (a) Does the person currently practise a religion? Yes / No
19 (b) If yes, which religion? (followed by the list of religions, omitting the No Religion category).