When Mike Gaffney took on the task of leading the effort to legalise voluntary assisted dying (VAD) in Tasmania, he knew it was going to be a challenging road ahead. 
Since entering the state parliament's upper house in 2009, the Independent MLC for Mersey had witnessed three failed attempts to pass a bill on VAD in the lower house. And, with just one staff member, the odds seemed stacked against him.
"I can remember somebody saying to me, 'Michael, good try, but you're never going to get this up as an Independent'," he told the RSA Webinar on Wednesday night.
But positive developments in other states – Victoria, in the first instance, and then Western Australia – helped Gaffney to garner a surge in public support for the reform and win over colleagues in the parliament.
In the RSA Webinar, Gaffney reflected on his journey to have his End-of-Life Choices (Voluntary Assisted Dying) Bill introduced into parliament in September 2020 and then passed into law earlier this year.
He also shared about some of the key lessons that he learnt through the process.
Seeking expert advice
Gaffney said going on a study trip that took in visits to countries including the Netherlands, Belgium, Switzerland, Canada and the United States had been crucial in helping him to better understand VAD policymaking.
"I was really fortunate that I did that because I met with some of the world's authorities in their countries on their legislation, whether they were medical experts, whether they were legal experts or those from the judiciary. These people impacted greatly on the way I felt the bill needed to go."
Consulting the community
In order not to surprise the public with the sudden appearance of a bill in the parliament, Gaffney was keen to engage Tasmanians along the journey and gain their input into the drafting of the bill.
He held community forums across the state, including 35 in February 2020.
Through these forums, he collected personal stories that he later collated and tabled to parliament for all parliamentarians to read.
He also gained crucial inputs, such as from a woman who criticised his draft bill for not allowing for self-administration. He then changed the text to include the provision, which was also being practised in Victoria.
During the forum process, Jacqui and Natalie Gray also contacted Gaffney to share about the diary entry their mother Diane had made days before she died.
Having previously been hesitant to engage in the emotional side of the debate, Gaffney recognised the potential of the Gray family's experience and connected with them. He incorporated a reading of Diane's diary as part of the forums.
Jacqui and Natalie formed the YourChoice TAS group to campaign at the grassroots level and on social media, producing a 13,000-strong petition for parliament.
Staying on message
In order to counter opposition to the legislation, especially from religious sections of society, Gaffney remained focused on the message that the debate was really about an individual's right to choose.
It was something that he had learnt in the Netherlands as part of his study trip.
"[The Dutch] are quite religious in a lot of ways. And I said to them, 'How did you get [VAD] through – you know, when you've got the Orthodox Church and the Catholics? How did you get this through?" he told the RSA Webinar.
"They said, 'Yes, the Dutch are quite religious in a lot of ways but they also have a high priority for an individual's right to choose.' And that was really important because that's the line I kept all the way through this."
Gaffney was also quick to counter incorrect information in the media. In one instance, while he was driving to Hobart he pulled over to call a radio station and correct claims made by a previous speaker.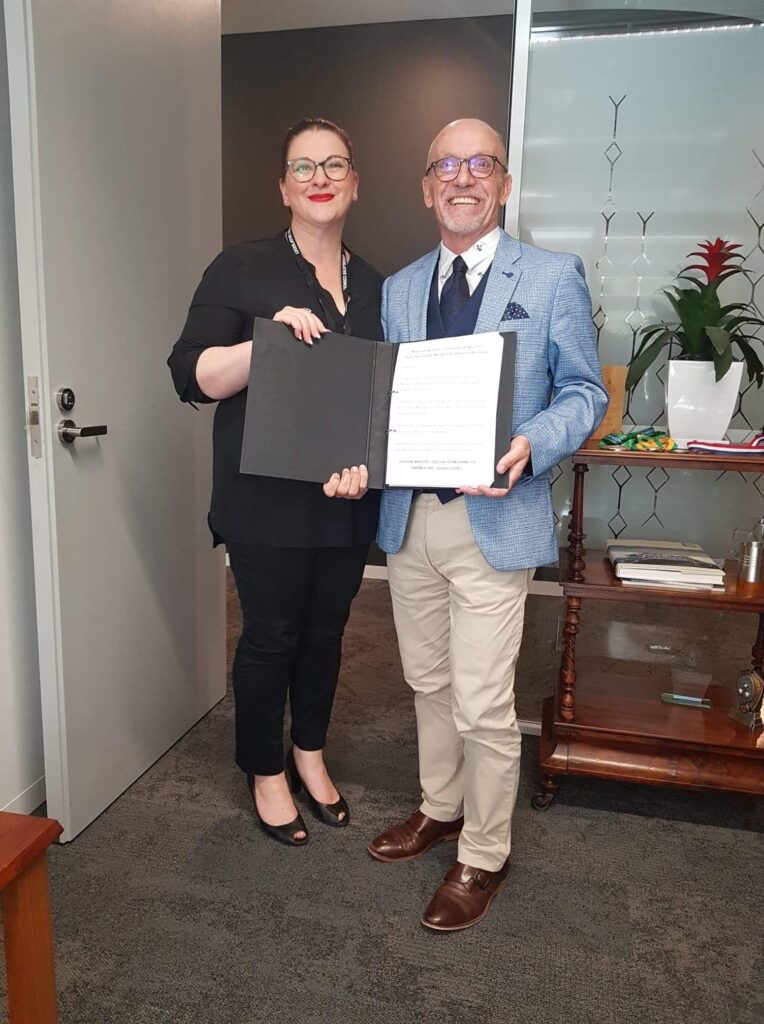 Working with colleagues
Throughout the process, Gaffney worked closely with parliamentary colleagues, including through many one-on-one meetings, to educate them about the bill's provisions, correct misunderstandings and listen to concerns.
"There were four or five that were never going to come. So you just have to cut your cloth and go with the ones that you think you might be able to win over," he said.
"For example, one Labor member downstairs had some concerns about the prognosis time – the six and 12 months. In my original bill, I didn't have a timeframe…because I believe it's difficult for a doctor to give an exact prognosis with time.
"However, he did highlight something about neurodegenerative in my draft bill. I said to him, 'Thank you so much for picking that up. I will use that.' Just by changing that amendment, when he got up to speak he was able to say, 'I met with Mr Gaffney early on, he listened to what I said and there has been a change in the bill.' So he then had some ownership of the bill." 
Being willing to compromise
Believing that terminally-ill people under 18 should also have the right to access VAD, Gaffney wanted to keep that option on the table. 
But it quickly became clear he would have to relinquish this for the bill to have a chance of passing both houses.
"Some who were supportive of the bill said, 'Michael, we worry that if this goes downstairs with this in it, you might not get the required numbers to pass the bill," he said.
"So, at the end of the day, it was one of those battles that – okay, that will come back another day. To me, it's a nonsense that it's not – the mature minor. That's another debate. But it was interesting how compromise was part of the journey."
Si Gladman is Campaigns & Communications Coordinator at the Rationalist Society of Australia. You can contact him at [email protected] or follow him on Twitter at @si_gladman