The Rationalist Society of Australia (RSA) is calling on the Tasmanian government to end religious-based discrimination in the appointment of chaplains in the state's public schools. 
In documents obtained by the RSA through a Freedom of Information (FoI) request, the state's Department of Education admits to running a program that discriminates against non-religious Tasmanians by blocking them from performing the roles.
In a letter to the Equal Opportunity Commission in March last year, Tim Bullard, Secretary of the Department of Education, confirms that taxpayer-funded positions under the National School Chaplaincy Program (NSCP) allow for only religious people to apply.
Mr Bullard wrote that chaplains "may be of any faith" and must be recognised through formal ordination, commissioning, recognised religious qualifications or endorsement by a recognised or accepted religious institution. This means that qualified youth workers who are not religious are not eligible.
The Department of Education was responding to an inquiry from Sarah Bolt, the Tasmanian Anti-Discrimination Commissioner at the Equal Opportunity Commission, who told Mr Bullard in a letter in January 2021* she was considering launching an 'own-motion' investigation into the matter. 
Chaplains who are employed under the NSCP provide youth worker services, such as running breakfast clubs and other wellbeing programs.
RSA President Meredith Doig said the FoI documents showed a clear case of religious-based discrimination.
"Many Tasmanians would be shocked to know that the state government has, for some time now, been running a taxpayer-funded program which unfairly prevents fully qualified youth workers who do not have a religious affiliation from filling these roles in public schools," Dr Doig said.
"Tasmania's Anti-Discrimination Act makes it unlawful to discriminate against people on the basis of religious affiliation or lack of religious affiliation. This is a clear-cut case of discrimination on the grounds of religious belief. I urge Premier Peter Gutwein to put an end to this religious-based discrimination in Tasmanian public schools."
Tasmania is the least religious state in the country, according to census data.
In recent weeks, more than 18,000 parents have signed a national online petition calling for the next federal government to fund appropriately qualified and experienced youth workers, instead of faith workers, in public schools.
Dr Doig is urging Tasmanians to raise the issue with their local federal member of parliament and senators, given that the federal government continues to provide more than $60 million each year to the NSCP.
"In the federal parliament, the Morrison government has been trying to introduce the divisive Religious Discrimination Bill seeking to give religious people and religious institutions a sword with which to discriminate against many Australians. Yet, here we have a government-funded program that's been discriminating against non-religious people for years," she said.
"We'd like to see Tasmanian members in the national parliament, such as Jacqui Lambie, stand up and question the Morrison government on why it's continuing to fund this discriminatory program in Australia's public schools."
*Please note that the Anti-Discrimination Commissioner's letter was incorrectly dated as '11 January 2020' (instead of 11 January 2021). Information at the bottom of the same letter confirms this error, as it states correctly that the request for an investigation had been received on 14 December 2020. In its reply letter, the Education Department made the same error in referring to the letter of '11 January 2020'.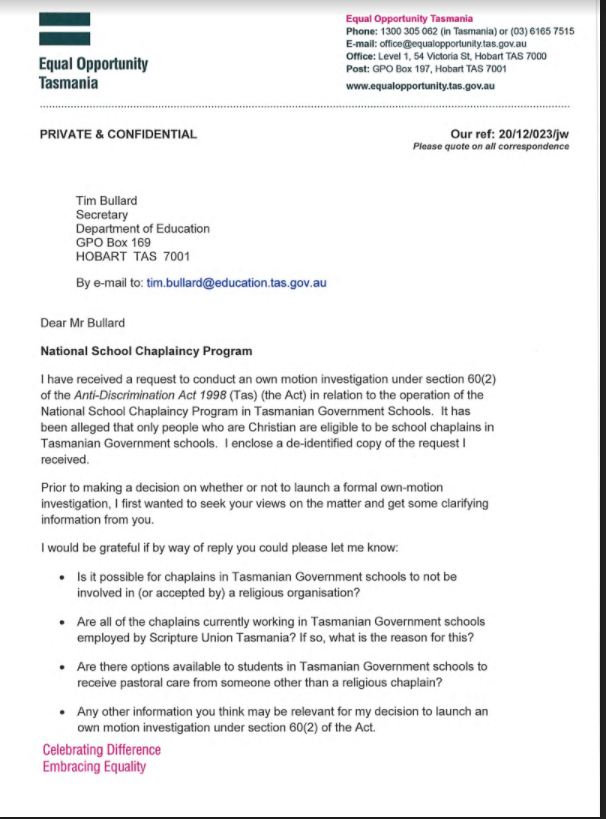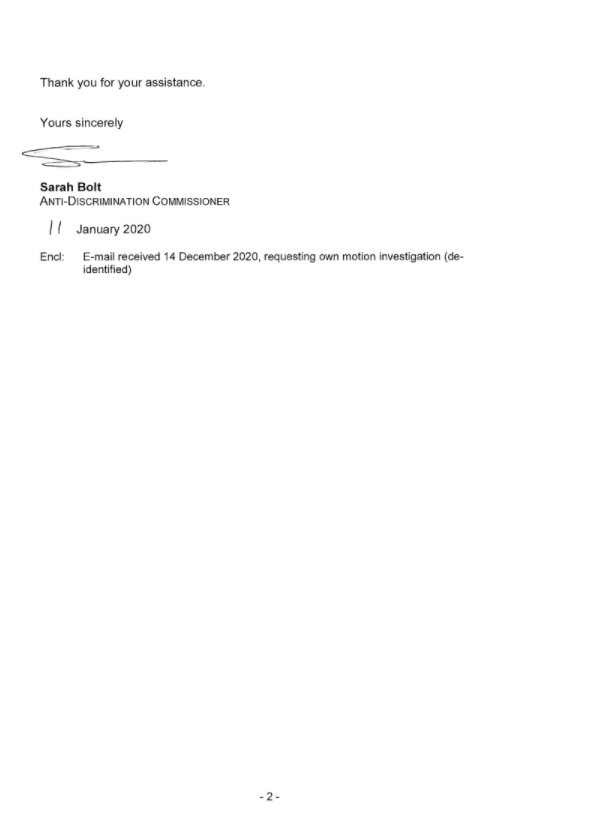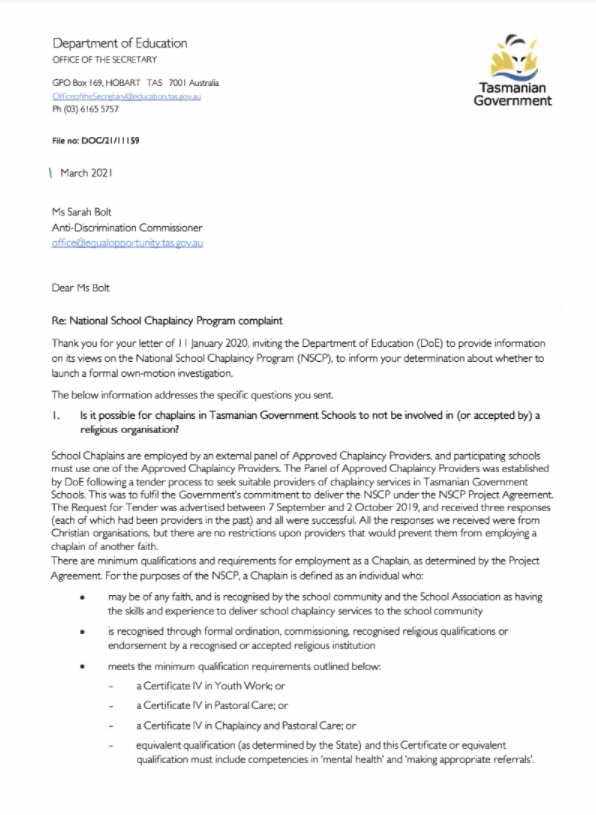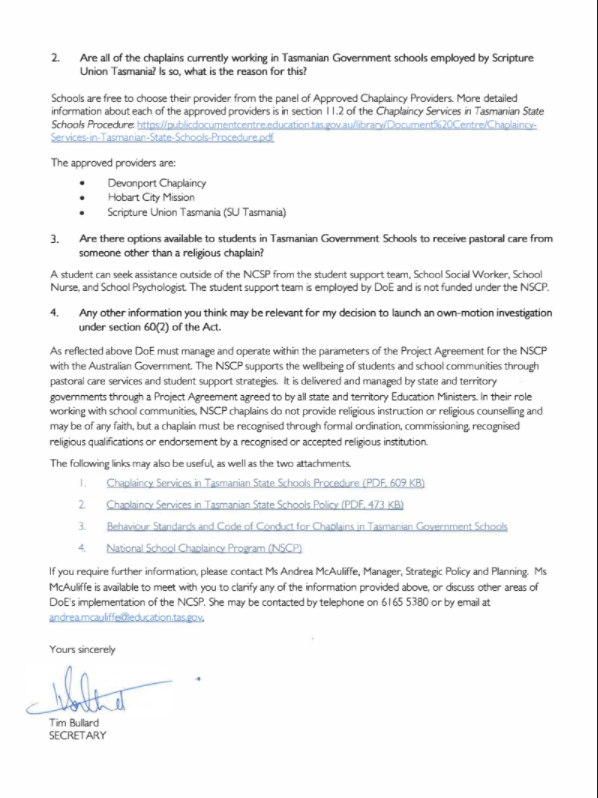 CONTACT FOR INTERVIEW
Dr Meredith Doig: [email protected]