Download full Joint Statement supporting a MSIC Trial.
Joint statement supporting a medically supervised injecting centre trial in Victoria
The Rationalist Society of Australia has joined with 42 other organisations and individuals calling for a trial of a medically supervised injection centre in Victoria.
As leading community health organisations, peak bodies and advocates, we call on the Victorian Government to pass the Drugs, Poisons and Controlled Substances Amendment (Pilot Medically Supervised Injecting Centre) Bill 2017.
The trial of a medically supervised injecting centre (MSIC) in Richmond has widespread support from leading health experts and organisations, the Yarra City Council, and community leaders and businesses. Importantly, people who inject drugs also support a trial of an MSIC in Richmond, and coroners have now made formal recommendations in support of it as well.
MSICs are facilities where people can inject drugs under medical supervision. This reduces the harms associated with injecting drug use, namely fatal overdose and the transmission of bloodborne viruses, such as HIV and hepatitis B and C. Other harms such as accidents, injection related injuries and infections, and stigmatisation of people who inject drugs are also reduced. MSICs also allow for a rapid response in the event of an overdose, the distribution of information about safer drug use practices, referrals to social support services, and treatment and other medical services.
The first MSIC opened in Switzerland in 1986, and Australia currently has one site, which has been operating in Kings Cross, Sydney, since 2001. There are now approximately 100 supervised injecting centres worldwide, a number likely to increase as governments recognise the importance of addressing substance use and harm from a health perspective rather than a law enforcement perspective. Canada has recently approved a number of these sites across their provinces, including three in Toronto alone, in response to the increases in drug-related overdoses. Remarkably, there has not been a single drug overdose fatality in any of the MSICs operating worldwide despite many having been in operation for decades. Meanwhile in Victoria there were over 900 fatal overdoses in the last two years alone.
Street-based injecting can often occur soon after purchasing substances, close to the point of sale, and in a hurry. MSICs move injecting drug use off the street and reduce associated harms. They also reduce the number of publicly discarded needles, which pose a potential health risk. This is important given that North Richmond needle and syringe program distributes 70,000 syringes each month, some of which residents report finding discarded in public spaces. In addition, MSICs reduce the demand on emergency services, which leads to significant cost savings and economic benefits.
The remarkable success of Sydney's MSIC, and others worldwide, provides a viable model for Victoria to emulate; one that works in the best interest of those who use the facility, the surrounding communities, and the community at large.
The evidence is overwhelming, MSICs work. We urge the Andrews Government to follow the advice of health experts, residents, and community leaders, and allow an 18-month trial of an MSIC in Richmond.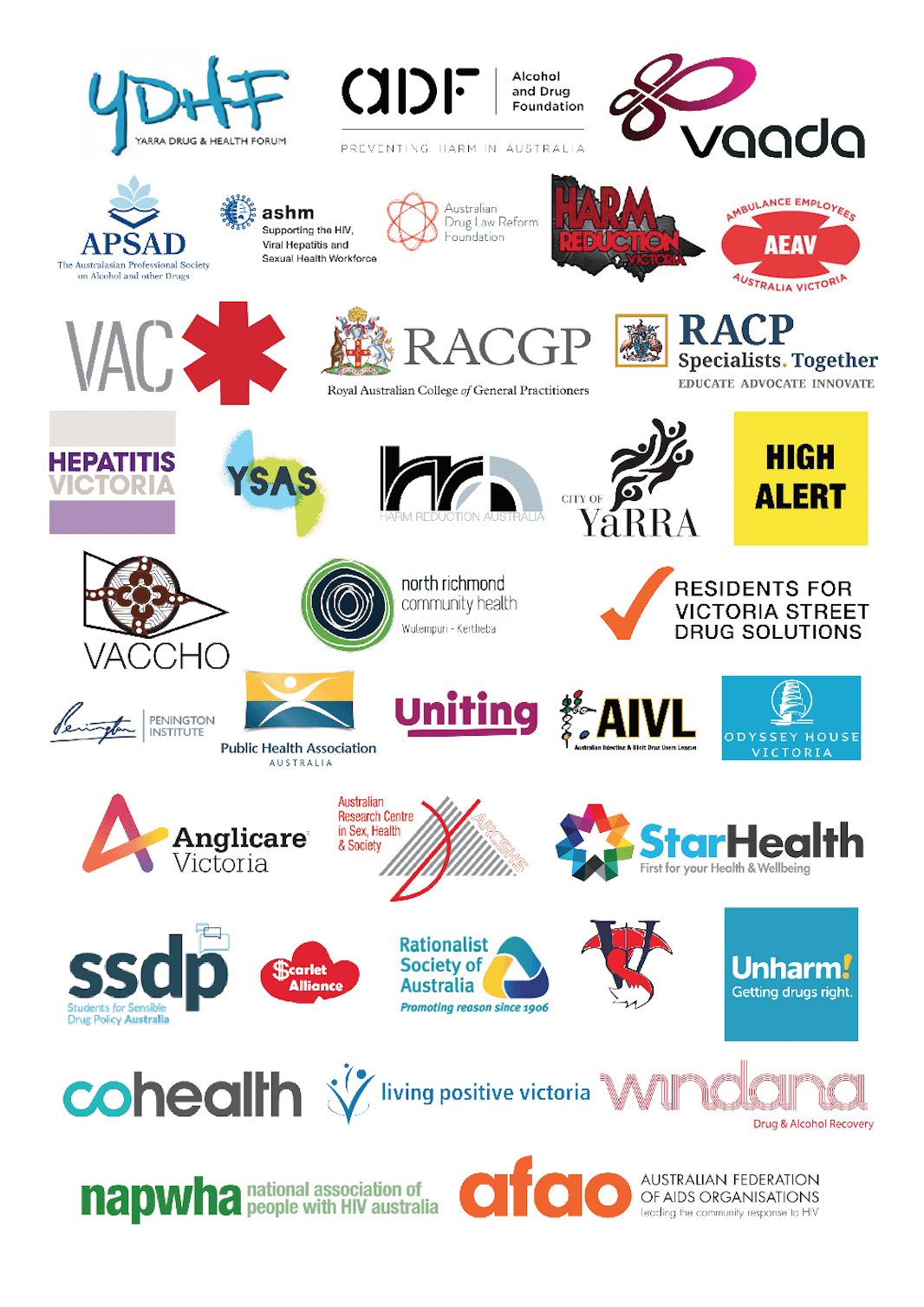 SIGNED BY:
Alcohol and Drug Foundation
Anglicare Victoria
Ambulance Employees Australia Victoria
Australasian Professional Society on Alcohol and other Drugs
Australasian Society for HIV, Viral Hepatitis and Sexual Health Medicine
Australian Drug Law Reform Foundation
Australian Injecting & Illicit Drug Users League
Australian Federation of AIDS Organisations
Australian Research Centre for Sex, Health & Society
cohealth
City of Yarra
Dr Graham Brown, Australian Research Centre in Sex Health and Society, La Trobe University
Dr Keri Alexander, Addiction Medicine Specialist, MBChB, FRACGP, FRAChAM
Dr Meredith Doig, OAM
Harm Reduction Australia
Harm Reduction Victoria
Hepatitis Victoria
High Alert
Living Positive Victoria
Matthew Townsend, Barrister
National Association of People with HIV Australia
North Richmond Community Health
Odyssey House Victoria
Penington Institute
Phil Dunn, QC
Professor Margaret Hamilton, AO
Public Health Association Australia
Rationalist Society of Australia
Residents for Victoria Street Drug Solutions
Royal Australasian College of Physicians
Royal Australian College of General Practitioners
Scarlet Alliance
Star Health
Students for Sensible Drug Policy Australia
Unharm
Uniting ReGen
Victorian Aboriginal community Controlled Health Organisation
Victorian AIDS Council
Victorian Alcohol & Drug Association
Vixen Collective
Windana
Yarra Drug & Health Forum
Youth Support + Advocacy Service