While Scott Morrison's religiosity is well known, the fact that he's using it to dictate policy and navigate crisis should be the tipping point.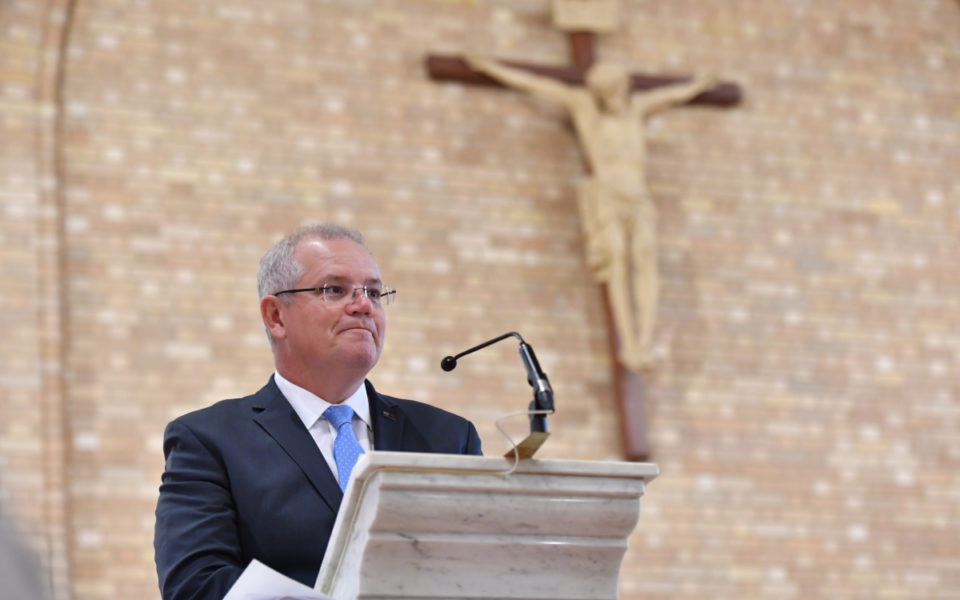 It may come as a surprise to some but Australia is not the 51st state of the United States, and our politicians are not expected to wear their religiosity on their sleeve.
We are – or we should be – a secular nation. Not anti-religious, but secular. There's a difference.
A truly secular society does not reject a role for religion in society. A secular society guarantees a role for any (legal) group, regardless of its beliefs. But a secular society requires that religion – particularly corporatised religion – avoids 'entanglement' with government, with public policy.
That's why so many Australians were disturbed to hear the Prime Minister of Australia, apparently from the confines of the prime ministerial office, replete with draped Australian flags, declare the following: "Heavenly Father, we commit our nation to You…and we do this also for the entire world."
As former High Court judge Michael Kirby has often reminded us, "Secularism in the public space is one of the greatest gifts of British constitutionalism to Australia. Secularism ensures there's a space for everyone – people of all religions and of no religion."
It's telling that a video of the Prime Minister committing our nation – and the entire world – to the Christian God was initially uploaded onto the religious news site Eternity News, but taken down after three hours when many followers of the site pointed out the prayer was intended to be private.
Fair enough. In a secular society, people are allowed to have their private beliefs and to share those beliefs with others – in private. But this video does give the voters of Australia insight into the private beliefs of the person who occupies, arguably, the most powerful position in our country.
As a person in a public position, knowledge of this man's private beliefs is of national interest.
The Prime Minister said in the video, "As a Prime Minister I have to make my decisions on the basis of very strong advice and exercise the best judgement I possibly can and my faith gives me enormous encouragement in how I can make those decisions. Let those who trust in you, Lord, be instruments of your love, your compassion and your justice and your mercy and your grace."
To a person steeped in the Christian faith, this may sound unexceptional, reassuring even. But to those of us who don't share the mythological fantasies of an ancient cult, to those of us who rail against the rearguard battles of declining religiosity in this country, these words are disturbing indeed. They flavour our fight against the excesses of the Religious Discrimination Bill; they enliven our insight into the barely-concealed disgust the hard-right feels towards gay sex; they rub salt into our wounds and strengthen our resolve.
Australia is not a theocracy and we will not accept anyone's religious beliefs, however private, imposed on the public policy of this nation.
Let us challenge those beliefs a little.
The Prime Minister expressed concern for those affected by these unprecedented times and calls upon his God to show mercy and compassion. So what might be the role played by this God in the worldwide COVID-19 pandemic?
There are four possibilities: He is not aware of it, He is aware but powerless to intervene, He is aware but happy to allow it to continue; He doesn't exist.
If the first is true, then God is not all-knowing. If the second is true, then God is not all-powerful. If the third is true, then God is cruel.
As the Prime Minister might say, "Let us hope and pray the fourth is true."
This article was first published in The Big Smoke, 2nd April 2020, read it here.